At Blue Bay Technology we believe that referrals are the greatest form of flattery. If you know someone who is worried about any aspect of their business technology, do them a favor and put them in touch with us.
As one of our valued customers, you already know the benefits you get from our services:
Sleeping like a baby - we take care of your technology 24x7
Increased productivity - less downtime translates into more work time
No more worrying about security - we protect your data and your network
Enjoying more time for yourself - maximize your quality of life
By recommending partners, associates, or professional contacts, you can help them enjoy worry-free IT and reap some rewards for yourself.
Help Us Out And We'll Reward You With Amazon Gift Cards For Your Trouble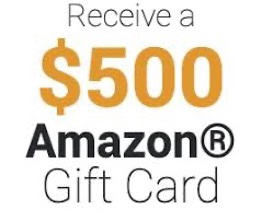 We love having you as a customer and, quite honestly, wish we had more like you! So instead of just wishing, we've decided to hold a special "refer a friend" event through December 31, 2022.
If your referral signs a three-year managed services contract with us YOU WILL RECEIVE A $500 Amazon Gift Card. And guess what? THERE'S NO LIMIT ON HOW MANY REFERRALS YOU CAN SUBMIT. Just think of the ways you could use those funds.

Simply call us at (703) 261-7200 or e-mail us at sales@bluebaytechnology.com with your referral's name and contact information today! Or have your "friend" reach out directly to us.